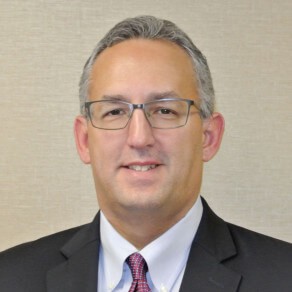 Office:  908.272.0200
Facsimile:  908.272.0909

Craig A. Domalewski
Craig A. Domalewski is a Senior Partner with Dughi, Hewit & Domalewski, P.C.
Mr. Domalewski focuses on complex dispute resolution. He has represented privately-held and publicly-traded companies, trade associations, non-profits, individuals, and government entities in some of the largest and most complex litigation and transactions in the State of New Jersey. He has regularly represented companies in complex, multi-million dollar civil litigation, including product liability, commercial disputes, securities fraud, environmental and insurance coverage matters where the amount in controversy exceeded $100 million. He has also negotiated numerous, multi-million dollar commercial transactions. He has provided strategic advice and guidance to hospitals, physicians and other individuals and entities in connection with various commercial disputes and regulatory and compliance issues.
Mr. Domalewski has an AV rating from Martindale-Hubbell, which is the highest rating for both legal ability and ethical standards that Martindale awards. He has also been recognized for his professional achievements by NJBIZ, the leading publication covering New Jersey's business community.
In 2015, 2016, 2017 and 2018, Mr. Domalewski was named by New Jersey Super Lawyers magazine as among the top attorneys in New Jersey. Super Lawyers, a Thomson Reuters business, selects no more than 5 percent of the lawyers in the state to receive this honor.
In 2012, 2013, 2014, and 2016 NJBIZ ranked Mr. Domalewski on its influential "Power 100" list of the 100 most powerful people in New Jersey business. Mr. Domalewski was also recognized in 2012 by NJBIZ for his work in health care by ranking him in its "Power 50" List of the Most Powerful People in New Jersey Health Care.
In 2018 and 2019, Mr. Domalewski was selected for inclusion in Best Lawyers, the oldest and most respected peer-review publication in the Legal profession.
Mr. Domalewski served as Senior Counsel to Governor Chris Christie from January 2010 through December 2011. As Senior Counsel to Governor Christie, Mr. Domalewski provided advice and counsel to Governor Christie on a wide array of legislative, legal, regulatory, and policy initiatives.
In 2012, Mr. Domalewski served as the Chairman of the Task Force on the Closure of State Developmental Centers, which was established by legislation, and performed a comprehensive evaluation of all of the State's developmental centers. The Task Force completed its work in 2012 and shortly thereafter Mr. Domalewski received the prestigious Public Leadership Award from New Jersey Association of Community Providers for his work as the Chairman of the Task Force.
In 2013, Mr. Domalewski served as special counsel to Governor Christie's campaign for re-election and was responsible for the legal side of the election day operation of the Governor's re-election.
Examples of his past and current practice experience include:
Litigating complex insurance coverage matters. Mr. Domalewski has successfully handled multiple cases where the claims for coverage exceeded $100 million, including asbestos insurance coverage litigation and environmental coverage litigation.
Litigating complex commercial disputes, including claims based on breach of contract, tortious interference, misappropriation and breach of fiduciary duty claims and matters before the chancery court in cases seeking injunctive and equitable relief. By way of one example, Mr. Domalewski successfully represented a governmental agency in complex litigation concerning real estate development and contractual disputes involving claims by multiple developers seeking in excess of $200 million.
Litigating insurance coverage bad faith disputes. For example, Mr. Domalewski served as lead counsel on behalf of a major hospital in a suit filed by an insurance company in federal court against the hospital alleging breach of insurance policy and asserting claims of bad faith arising from a $30 million verdict against the hospital and other defendants in a wrongful birth case. The case was dismissed with prejudice shortly after a Rule 12(b)(6) motion to dismiss was filed without payment by the hospital.
Successfully represented a major financial company in federal court in a mortgage-backed securities case where the alleged damages exceed $450 million based on allegations of fraud and violations of the New Jersey Civil RICO statute
Representing companies in major product liability suits. For example, Mr. Domalewski served as lead counsel in a suit filed by a plaintiff claiming permanent injury and seeking a million dollars in damages allegedly arising from the use of a major pharmaceutical company's over the counter product. The case was dismissed without payment when the firm's investigation developed evidence proving that the plaintiff's claims pre-existed her alleged use of the defendant's product.
Representing companies in numerous environmental disputes and litigation concerning claims under federal and state law for remediation, cost recovery and natural resource damages.
Structuring, negotiating, and closing significant commercial transactions, including professional service agreements between hospitals and physician practice groups, asset purchase agreements for the purchase and sale of medical practices and other businesses, buy-out agreements between business partners, and numerous transactions relating to the acquisition, disposition, leasing and development of commercial property.
Providing regulatory advice and guidance to hospitals and other entities subject to regulatory oversight, including compliance with investigations and resolution of actions brought by regulators.
Mr. Domalewski has also successfully handled professional liability cases, including obtaining a dismissal of a multi-million dollar legal malpractice claim against a well-respected, national law firm. The claim was dismissed based on a motion to dismiss for failure to state a claim. The dismissal was upheld on appeal by the Appellate Division.
Mr. Domalewski has also served on several panels sponsored by the State Bar Association to lecture on insurance coverage, crisis management and high profile litigation, economic development and regulatory matters.
He is admitted to practice in New Jersey and the U.S. District Court for the District of New Jersey. He is a member of the American Bar Association and the New Jersey State Bar Association.
Education
J.D., summa cum laude
Seton Hall University, 1996
Graduated second in class
of over four hundred students
Member, Seton Hall Law Review
B.A., cum laude Lehigh University, 1991
Captain, Varsity Football team 1990
Member, Varsity Football team 1987-1990
earned four varsity letters
Member, Chi Psi Fraternity