The Serious Consequences of White Collar Crime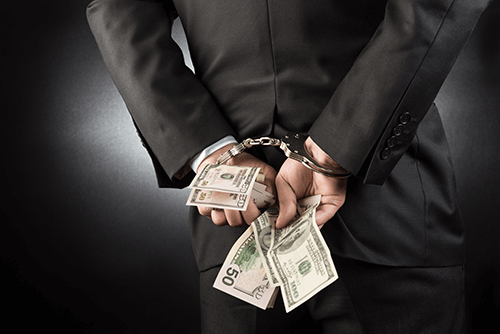 White collar crime is not victimless, and there are severe and serious consequences for these actions. If you find yourself implicated in white collar crime in federal or state court in New Jersey, you need an attorney, quickly.
What Is White Collar Crime?
Stepping away from glitzy Hollywood renditions of swindling stockbrokers, there are many more everyday, common events where white collar crimes occur.
At its most basic, white collar crime is criminal activity involving fraud, finance, business, professionals or government, aimed at gaining access to money, assets or other entitlements that are not legally theirs. Fraud is an example of white collar crime. Fraud charges can include mortgage fraud, official misconduct, corruption, health care fraud, Medicaid fraud, election or voter fraud, check or wire fraud, cyberfraud or computer fraud, fraud in trading, as well as outright forgery.
White collar crime is also carried out through falsifying financial information, using insider access to trade, laundering money to conceal its illegal roots, and embezzlement. It may include wage theft, tax evasion, copyright infringement, bribery, illegal schemes like the Ponzi setup, and identity theft.  These types of cases can lead to investigation or charges for criminal or civil racketeering, also known as RICO, and conspiracy.
White collar crime, is, in fact, a big deal.
The Consequences of White Collar Crime
Punishment for white collar crime can be any combination of prison, probation, paying fines and restitution, and performing community service. You may find yourself paying for the cost of prosecution, forfeiting the gains of the crime, and heading off to prison or stuck under house arrest.
Your freedom and financial future are on the line. If you are charged or convicted, your assets may be seized, impacting yourself and your family. It's not just the related assets stemming directly from the crime, to be clear — if you are ordered to pay restitution, you may find your personal and familial property seized, or liens placed on future paychecks, to fulfill that obligation.  Your vehicles and even your home may be at jeopardy.
White collar crime can lead to not only criminal convictions, but civil repercussions as well. Following the criminal process, those convicted of white collar crime can face civil lawsuits from the government, the victims of the crime, or both. It adds to the overall penalties brought forward from the criminal side of things, and only adds to the financial and reputation ruin.
Allegations of white collar crime can ruin your reputation and put a black mark on you and your company throughout the business world. A white collar crime allegation or charge can cause your business to suffer, and effect your family and your entire way of life as you know it. The sooner you can work to defend yourself, the better.
Whether you are suspecting you will be under investigation, are actively under investigation, or have been charged with white collar crime, it's vital to your future to secure legal counsel to protect your rights.
Defense with Dughi, Hewit & Domalewski
Our team at Dughi, Hewit & Domalewski has experience handling white collar crime cases in federal court and state court. We treat you with respect during this stressful time, working to understand your perspective and your desires while putting together a cost-conscious, effective legal strategy. We get to work immediately to try to resolve the charges before the matter gets out of hand, but we are willing to pursue litigation as needed, as well as work to find alternative resolutions where practicable so your matter can be dealt with efficiently.
Our skilled attorneys are former prosecutors and government lawyers who seek and challenge evidence, pore over documentation including search and seizure warrants and records obtained, ensure that your rights were preserved and continue to uphold them, and find the areas of weakness in the government's case. We maintain an informed, realistic, and, perhaps most importantly, transparent evaluation of each case with the client in question, so you will never feel like you don't know what's coming next.  When you trust our team with your defense, you become part of our team.
If you need a New Jersey criminal defense attorney, Dughi, Hewit & Domalewski can assist you.  Please contact Brandon D. Minde, a certified criminal trial attorney by the New Jersey Supreme Court, Chair-elect of the New Jersey State Bar Association Criminal Practice Section, and Chair of the firm's New Jersey Criminal Defense Practice Group. You can call Mr. Minde at (908) 272-0200 or submit our contact form for any inquiries.