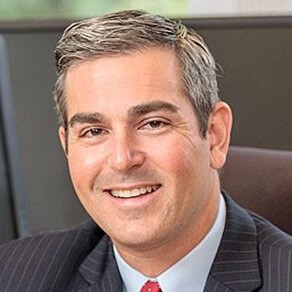 Office:  908.272.0200
Facsimile:  908.272.0909
Practice Areas
Awards and Honors
New Jersey Rising Starts (Super Lawyers Magazine 2015-2019)
"Forty Under 40" (NJ BIZ Magazine 2016)
New Leaders of the Bar (NJ Law Journal 2015)
Professional Achievement Award (NJSBA YLD 2014)
Professional Activities
Chair-elect, NJSBA Criminal Law Section (2019)
Chair, NJSBA White Collar Crime Subcommittee (2015 – 2018)
Chair, NJSBA Election Committee (Chair 2014 – 2016)
Trustee of NJSBA Board of Trustees (2012 – 2014)
Chair, NJSBA Business and Commercial Litigation Committee (2016 – 2017)
Member, Association of Criminal Defense Lawyers of NJ (2015 – present)
Certifications
Certified by the New Jersey Supreme Court as a Criminal Trial Attorney
U.S. Healthcare Compliance Certificate Program, Seton Hall University School of Law (June 2016)
Articles
Press Placement
Faculty Position
Practising Law Institute (since 2017)
Lawline (since 2019)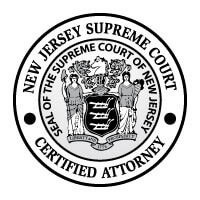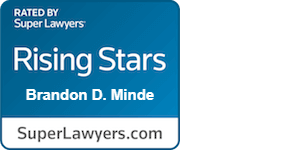 Brandon D. Minde
Brandon D. Minde is a trial partner with legal experience in both government and private sectors. His practice focuses on representing individuals and businesses charged with criminal offenses or undergoing criminal investigations; defending physicians and hospitals charged with medical malpractice; and complex civil litigation.
Mr. Minde represents a vast array of businesses and individuals in high stakes civil matters, as well as those investigated and charged with federal and state crimes.  Mr. Minde uses the techniques and strategies he learned as a former prosecutor to get his clients' charges dismissed or to resolve the case in the most favorable terms.  If necessary, Mr. Minde is known as a defense lawyer who will take his client's case to trial to win the case.
He is certified by the New Jersey Supreme Court as a Criminal Trial Attorney, a designation less than 3% of New Jersey attorneys obtain.  Attorneys may be designated as "certified attorneys" if they are able to demonstrate sufficient levels of experience, education, knowledge, and skill in criminal trial practice.
Mr. Minde is a former assistant prosecutor, having handled numerous criminal prosecutions and jury trials. While serving in the Corruption Unit, Mr. Minde managed investigations and conducted prosecutions of corruption, fraud, government misconduct, and other white-collar crimes. He received training in economic crimes and financial investigations from the National White Collar Crime Center, and cyber-crime and computer forensics from the National Computer Forensics Institute. Mr. Minde was also appointed as a Special Deputy NJ Attorney General to lead a joint investigation into wide-spread election fraud through absentee voter ballots, which culminated in several convictions, including high-level government officials, and at the time was the largest voter fraud case in the history of New Jersey.
Mr. Minde is an appointed member of the Criminal Justice Act (CJA) Panel for the District of New Jersey, and has also served since 2018 as the appointed Public Defender for the Township of Wall.
Mr. Minde's government experience includes serving as Executive Director of the New Jersey Government Records Council, the state agency that adjudicates complaints filed under the Open Public Records Act (OPRA) concerning denials of access to government records, offers a mediation program to facilitate the resolution of disputes, issues advisory opinions as to disclosure of public records, prepares guidelines for use in complying with the law, and provides training on the OPRA law to government officials and the public.
Mr. Minde also served as Assistant Counsel to Governor Chris Christie from 2010 to 2013. As Assistant Counsel to Governor Christie, Mr. Minde provided advice and counsel to Governor Christie and the Chief Counsel to the Governor on a wide array of legislative, legal, regulatory, and policy initiatives. Mr. Minde also served as Assistant Counsel in the Governor's Authorities Unit, where he provided counsel on legal matters of the state's largest independent agencies.  While Assistant Counsel, Mr. Minde was appointed to serve as an executive branch representative on the NJ Sales and Use Tax Review Commission, and was also designated to serve as the Governor's representative on the board of the Fort Monmouth Economic Revitalization Authority.
Prior to his time in public service, Mr. Minde worked as an associate in the Securities Litigation, Government Relations and White-Collar Defense Group of New Jersey's largest law firm.
Mr. Minde is recognized by New Jersey Super Lawyers magazine as a Rising Star, a designation given to less than 2.5 percent of New Jersey attorneys recognized as the top attorneys who are 40 years old or younger.  He has received this recognition every year since 2015.
In 2016, Mr. Minde was selected as one of the NJBIZ Forty Under 40. NJBIZ is New Jersey's premier business news publication, and its Forty Under 40 awards program honors individuals under the age of 40 who have been making headlines in their field and who share a commitment to business growth, professional excellence and the community.
In 2015, Mr. Minde was named a New Leader of the Bar by the New Jersey Law Journal publication, a designation that was given to only 50 lawyers in New Jersey who are under 40 years old.
Mr. Minde is admitted to practice in New Jersey and New York.
Representative Clients
Fraud

Client charged in federal court with $30 million "pump and dump" stock fraud scheme
Client charged in state court with check fraud. All charges dismissed.
Client charged in state court with credit card fraud. All charges dismissed.
Client investigated in federal court for financial fraud related to credit card activity. Investigation terminated without charges.

Corruption & Election Crimes

Client investigated by State for violations of the Local Government Ethics Law. Investigation terminated without charges.
Client charged in federal court with election fraud.

RICO

Client charged in federal court with RICO conspiracy, among other offenses. Hung jury resulting in a mistrial after six-month trial with over 100 witnesses.
Client charged in federal court with murder in aid of racketeering.

Theft

Client nurse charged in state court with destruction, falsification or alteration of records and theft by unlawful taking. All charges dismissed.

Murder

Client charged in state court with attempted murder. All charges dismissed after defense motion for misrepresentation during grand jury presentation.

Weapons

Client charged in state court with possessing a handgun in a vehicle. All charges dismissed.

Doctors & Hospitals

Clients charged by state with insurance fraud.
Clients charged with unlawful involuntary commitment to psychiatric facility in action brought by former school teacher. No cause defense verdict.
Speaking Engagements
"NJ Criminal Trial Preparation" (Practising Law Institute, New Jersey CLE Marathon, May 2019)
"Hot Topics in Criminal Law" (Criminal Law Section of NJSBA, April 2019
"The ABC's of Civil and Criminal Trial Preparation in NJ" (Lawline, February 2019)
"Trial by Instagram: Use of Social Media in a Criminal Trial" (Richard J. Hughes Inn of Court, April 2018)
"Handling a Criminal Case in NJ" (Practising Law Institute, New Jersey CLE Marathon, May 2018)
"NJ Criminal Trial Preparation" (Practising Law Institute, New Jersey CLE Marathon, May 2017)
"How to Keep Your Company in Business when Facing Criminal Charges or Regulatory Action" (NJSBA Annual Meeting and Convention, May 2016)
"Handling Official Misconduct Cases" (New Jersey State Bar Association CLE, September 2015)
"White Collar Crime – the Pen is Mightier Than the Sword" (NJSBA Annual Meeting and Convention, May 2015)
Government Records Council ("2013 Annual OPRA Seminar", August 2013)
Law Enforcement Seminars ("OPRA for Law Enforcement Agencies", Union County Police Academy, Sept. 2013) ("OPRA for Law Enforcement Agencies", Monmouth County Police Academy, July 2013)
New Jersey State Bar Association ("Litigating an OPRA Case", Annual Convention, May 2013) ("Avoiding Common Mistakes in and out of Court: Your Guide to Ethics & Professionalism", Annual Convention, May 15, 2009) ("Direct & Cross Examination: Focusing on Trial Preparation", April 2009)
New Jersey State League of Municipalities ("A Review of the Open Public Records Act", Annual Conference, Nov. 2013) ("A Review of the Open Public Records Act", June 2013)
Education
J.D., The George Washington
University Law School
Member of Alternate Dispute
Resolution Skills Board
B.A., summa cum laude
Muhlenberg College